24 Hour Towing • Expert Auto Repair
630.665.1055
Hours: Monday- Friday 8:00am-6:00pm | Sat. 8:00 am - Noon | Closed Sunday
Steering and Suspension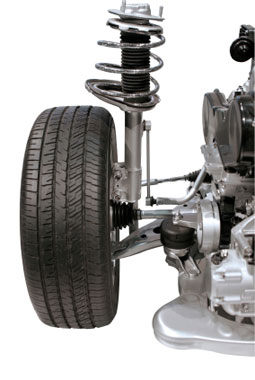 Steering and suspension are essential to how the driver engages with the road and car. Having problems with either of these systems can cause a broad range of problems, from annoying to life threatening. It's important to find a auto repair shop you trust that has the knowledge and experience to work on such critical components. J&C Central prides itself in our broad and thorough knowledge, training and experience in all of your suspension or steering problems. We fix many common steering and suspension issues including:
Difficulty turning
Power steering
Car can't handle bumps or potholes as well as it used to
Underside of car scrapes more than usual
Alignment issues
Shocks and strut replacement
If you're experiences problems with your steering, are hearing odd noises when you turn or just generally don't like how your car has been driving lately, bring it in to J&C Central and leave with the drive you remember.
For more information or to schedule an appointment, please contact us.