24 Hour Towing • Expert Auto Repair
630.665.1055
Hours: Monday- Friday 8:00am-6:00pm | Sat. 8:00 am - Noon | Closed Sunday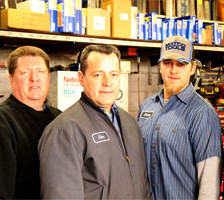 The staff at J&C Central are dedicated to finding solutions to your automobile problems, and will quickly and professionally diagnose and repair what ever problem you bring to them. With over 34 years of continuous business and with many more in experience, the mechanics at J&C Central will expertly get you back on the road with a smile on your face.